I'm so excited by all of you who have visited my blog, clicked on the "follow" button and signed up to receive email updates when I post. If you haven't done either of these things, please do! It will be the best way I can get updates to you, freebies and lots of other fun!
I thought about individually emailing the links to this kit, but then I decided that I'd rather spend that time designing! So, I'm going to trust that if you download the kit, you sign up for Feedburner and click the follow button!
I will leave the links up until Wednesday night, then it will go into my store for sale! So tell your friends to come get it now!
I'm also curious how many of you read the Ramona books when you were in elementary school? I, of course, read them all because I was so excited that she shared my name! I was also teased mercilessly throughout my childhood as Ramona the Pest. Of course, no one could think of the other Ramona books. I mean, why couldn't I have been Ramona the Brave? Or Ramona Forever! That would have been so much better! Oh well, now that I'm almost 40, I decided I would embrace my hated nickname!
Feel free to leave me a comment and share your favorite book from childhood. I have always loved to read, so it's fun to discuss the favorites!
But now on to the good stuff! Here is the kit and the download links! When you create layouts with it, feel free to post them in my gallery at Browniescraps. I would love to see them and give you lots of love!
And here is a layout I created of, of my two little girls!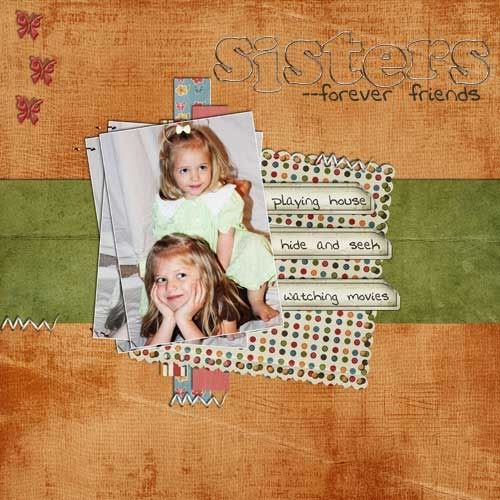 **Links are now expired**
However, it is for sale in my shop!